Daily Current Affairs - 11th Nov 2019
5th edition of GES to be held from Nov 26-28 in Bengaluru
The fifth edition of Global Exhibition on Services, GES 2019 is being held from November 26 to 28 at Bengaluru in Karnataka. The Global Exhibition on Services is an annual event which aims to engage industry and governments across the world and to promote greater exchange of trade in services between India and the rest of the world.
The event encompasses the participation from 100 countries and hosting sector-specific knowledge sessions.
During this event India is looking to attract investments and partnerships in strategic areas like aviation and space programme, infrastructure, and telecom projects.
Bolivian President Morales announces his resignation
President Evo Morales of Bolivia, who came to power more than a decade ago as part of a leftist wave sweeping Latin America, resigned after unrelenting protests by an infuriated population that accused him of undermining democracy to extend his rule.
Mr. Morales was once widely popular and stayed in the presidency longer than any other current head of state in Latin America. He was the first Indigenous president.
China Open: Kento Momota beats Tien Chen to win 10th title of 2019
Kento Momota has won his 10th title as Japan's world number one defeated Taiwan's world number two Tien-chen to retain his Fuzhou China Open Badminton crown on Sunday. Momota battled past Chou 21-15,17-21, 21-18 at Fuzhou. In women's category, Chen Yufei has successfully defended the title with a victory over Japan's Nozomi Okuhara.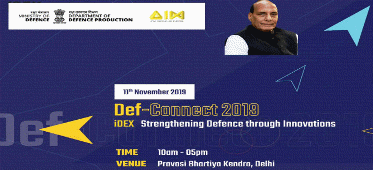 Defence innovations conference showcasing accomplishments of iDEX to be held on November 11
The Union Defence ministry is organising Def-Connect in New Delhi on November 11th to showcase the accomplishments of the Innovations for Defence Excellence (iDEX) initiative.
The conference aims to bring together all stakeholders of the iDEX ecosystem, Ministry of defence, iDEX selected startups, Partner Incubators, Defence Innovation Organisation, Nodal agencies (Indian Army, Navy, Airforce), Defence Research and Development Organisation and Defence Public Sector Undertakings and Indian Ordnance Factories.
Dharmendra Pradhan to visit to UAE for ADIPEC
Petroleum Minister Dharmendra Pradhan will visit United Arab Emirates from November 10 to 12 to attend the inaugural Ministerial session of Abu Dhabi International Petroleum Exhibition and Conference. He will participate in the Ministerial panel discussion.
Accompanied by officials and business delegation, the Minister is scheduled to meet his UAE counterpart.
Both the countries will discuss issues of bilateral hydrocarbon as well as steel sector engagements. He will also explore the opportunities for steel exports to the middle east countries
Former IAS officer PS Krishnan passes away
Former Union Secretary PS Krishnan, who is regarded as a champion of the oppressed and exploited sections of society, passed away in New Delhi. He was 86.
Widely regarded as the crusader of social justice in India, Krishnan was selected to the Indian Administrative Service (IAS) in 1956 and served in Andhra Pradesh.
He was the Secretary of the Ministry of Welfare in 1990 when the VP Singh-government implemented the Mandal Commission Report, which sought to provide 27% reservations to socially and educationally backward classes.
India beat Bangladesh in third T20 match by 30 runs; Clinch series 2-1
India beat Bangladesh by 30 runs in the third and final T20 cricket in Nagpur to clinch the three-match series 2-1. Put to bat first, India scored 174 runs with the loss of 5 wickets in stipulated 20 overs. Chasing the target, the visitors were all out for 144 in 19.2 overs. Indian Pacer Deepak Chahar claimed the best-ever Twenty20 international bowling figures of six for seven.
India Inc's ECBs surge 53% in first half of fiscal year to $25 billion
India Inc's debt fundraising through overseas loans touched $25 billion in the first half of the current fiscal year, which is an all-time-high borrowing for a half-yearly period.
According to Reserve Bank of India (RBI) data, India Inc raised External Commercial Borrowing (ECBs)/Foreign Currency Convertible Bonds (FCCBs) worth $25.17 billion (both under the Approval and Automatic routes) in the April-September period. The borrowing is 53 per cent higher than the $16.48 billion that Indian entities raised during the comparable period last year.
In FY19, India Inc's ECB fund-raising touched a historical high of $42 billion.
Currently, the RBI's cap on the ECB lending rate is LIBOR plus 450 basis points, which means companies can borrow at an interest rate anywhere between 2 to 6.5 per cent, which is much lower than the domestic bank lending rates.
India, 16 others complain to WTO about EU's residue limits for pesticides
India and sixteen other countries such as Brazil, Colombia, Argentina and the US have complained at the World Trade Organisation (WTO) against the EU decision to amend its policy on the maximum residue levels (MRLs) for a wide range of pesticides mainly used in the cultivation of citrus fruit and bananas.
The seventeen countries that raised their voices against the lowered MRL levels by the EU alleged that the bloc was following a precautionary stance in taking its decisions and was disregarding scientific evidence presented by relevant international organisations recognized by the SPS Agreement.
The pesticides for which the MRL has been lowered include buprofezin, diflubenzuron, chlorothalonil, ethoxysulfuron, glufosinate, imazalil, ioxynil, iprodione, molinate, picoxystrobin and tepraloxydim.
Indian shooters secure unprecedented 15 quota places for Tokyo Olympics
India bagged an unprecedented 15 Olympic quotas in shooting afterAngad Vir Singh Bajwa and Mairaj Ahmad Khan's 1-2 finish in skeet and teenager Aishwary Pratap Singh Tomar's bronze at the Asian Championship. This is India's best-ever Olympic quota haul, easily surpassing the 12 at the 2016 Rio Games and 11 in London in 2012. India had 11 shooters at the 2012 London Olympics and 12 in Rio deJaneiro in 2016.
Jordan to Retake Territory Leased By Israel
Jordan is set to reclaim full control of two areas, Baqura and Ghamr, following the expiration of a 25-year lease to Israel, King Abdullah II confirmed on Sunday.
King Abdullah II had said last year that he wouldn't renew the parts of the 1994 treaty that gave Israel a 25-year lease of the two small areas, Baqura and Ghamr.
Baqura and Ghamr were leased to Jewish farmers early last century. They became part of Jordan after the kingdom gained independence from Britain in 1946.
National Education Day observed on November 11
National Education Day is observed on 11th November every year to commemorate the birth anniversary of Maulana Abul Kalam Azad. He was a freedom fighter, scholar and the first Education Minister of independent India. The day is also seen as an occasion to remember Azad's contribution in laying the foundations of the education system in the country.
OECD invites public inputs on Global Anti-Base Erosion proposal
The Organisation for Economic Cooperation and Development (OECD) has come up with a new proposal that could end up ensuring that profits of internationally operating businesses—including tech and digital giants are subjected to a minimum rate of corporate tax.
The new proposal—the Global Anti-Base Erosion (GloBE) proposal under Pillar two of BEPS 2.0 project aimed at addressing the tax challenges of the digitalisation of the economy—represents a substantial change to the international tax architecture
The GloBE proposal postulates that global action is needed to stop a harmful race to the bottom on corporate taxes, which risks shifting the burden of taxes onto less mobile bases and may pose a particular risk for developing countries with small economies. Depending on its design, the GloBE proposal may shield developing countries from pressure to offer inefficient tax incentives.
Shafali Verma & Smriti Mandhana Set up Convincing Win Against West Indies
Blistering half-centuries by the young Shafali Verma and Smriti Mandhana paved the way as the Indian women's cricket team convincingly beat their West Indian counterparts by 84 runs at Gros Islet to take a 1-0 lead in the five-match T20I series.
India posted a very healthy score of 185/4.Then the West Indies were restricted for 101for 9 in 20 overs.
Shafali Verma smashed six boundaries and four maximums in her 49-ball-73 run knock, while Mandhana, who only recently returned from injury, hammered 11 boundaries in her 46-ball-67.
Spanish election results: Socialists win most seats
In Spain, the ruling Socialist Party looks set to win the most seats in the general election, but fall short of a majority. With 98 percent of the vote counted, the Socialist Party has won 120 seats, the Popular Party 88, Vox 53, Podemos 35 and Ciudadanos 10. Spain has not had a stable government since 2015. A Prime Ministerial candidate needs a majority of 176 supporting seats to form the government in the 350-member lower chamber of Parliament.
US Court retains H-1B visa rule giving work permit to spouses
In a temporary relief to thousands of Indians living in America, a US court has refused to strike down an Obama-era rule that allowed spouses of H-1B visa holders to work in America. Indians, in particular women, were the greatest beneficiary of this rule, which has been challenged by several US workers with the current Trump administration saying that it wants to rescind the rule. The H-1B visa is a non-immigrant visa that allows the US companies to employ foreign workers in specialty occupations. A 2015 rule issued by US President Donald Trump's predecessor BarackObama allowed work permits for certain categories of H-4 visa holders, primarily spouses of those having H-1B work visas waiting for their Green Card, to work in the US.