Daily Current Affairs - 22nd Dec 2019
5th Edition of ARTECH to be held in New Delhi
The 5th edition of ARTECH is being organised by Indian Army on 'Technologies for Non-Contact Warfare' at Manekshaw Centre, Delhi Cantonment. The seminar is the flagship event of the Indian Army which sets the agenda for focus areas of harvesting indigenous capabilities in the Defence sector.
ARTECH Seminar was launched in 2016 as part of the overall vision of 'Make in India' of Hon'ble Prime Minister and is conducted every year as part of events leading to Army Day celebrations.
CBERS-4A: New China-Brazil earth resource satellite launched into space
The China-Brazil Earth Resource Satellite-4A (CBERS-4A), a new satellite jointly developed by China and Brazil as part of a bilateral programme, was recently sent into space, thus further pushes forward the aerospace cooperation between two countries.
It was launched on a Long March-4B carrier from Taiyuan Satellite Launch Center in Shanxi Province of China.
Centre launches EChO Network to catalyze cross-disciplinary leadership in India
Government of India launched EChO Network, a national program to provide a template for cross-disciplinary leadership in India. The network specifically focuses on increasing research, knowledge, and awareness of Indian ecology and the environment. It was launched in New Delhi by Prof. K Vijay Raghavan, Principal Scientific Adviser to Centre.
Currently, no such network is present anywhere in world, thereby, EChO Network establishes a new platform to change how science is embedded in our modern society.
Cuba names Manuel Marrero Cruz to be first PM since 1976
In Cuba, President has appointed Manuel Marrero Cruz as the country's first prime minister in more than 40 years. Marrero, who has served as tourism minister for 16 years and is an architect by trade, helped boost Cuba's economy by making tourism one of the engines of growth. The post of prime minister was scrapped in 1976 by the then-revolutionary leader Fidel Castro.
December 22nd: National Mathematics Day
National Mathematics Day is celebrated on 22nd December every year to mark the birth anniversary of legendary mathematician, Srinivasa Ramanujan and his contributions in the development of modern mathematics.
Ramanujan had a wealth of ideas that have transformed and reshaped 20th-century mathematics. These ideas continue to shape mathematics of the 21st century. The main objective behind the celebration of National Mathematics Day is to make people aware of the development of mathematics and its importance in the growth of humanity.
Eight West African nations rename common currency to Eco
Eight West African countries have agreed to change the name of their common currency to Eco and severed their earlier currency CFA Franc's links to former colonial ruler France.
The CFA Franc was initially pegged to the French franc and has been linked to the euro for about two decades. Benin, Burkina Faso, Guinea-Bissau, Ivory Coast, Mali, Niger, Senegal and Togo currently use the currency. All the countries are former French colonies with the exception of Guinea-Bissau.
FSSAI delinks front of packet labelling from general labelling
The FSSAI (Food Safety Standards Association of India) announced that the front of packet labeling will be delinked from its general labeling regulation. The move is being implemented in order to make the consumers aware of food products that are high in fat, salt and sugar content.
The authority will soon provide threshold limit of sugar, salt and fat in food products. The Front of Packet Labeling helps to identify the green (vegetarian foods) and red (non-vegetarian foods). It also includes pictorial representation of nutrients, food group nutrients and summary indicators, etc. This can at times be misleading as consumers fail to give a detailed read about the product.
Harinder Pal Singh wins men's title in 3rd leg of HCL-SRFI India Tour
Indian squash player Harinder Pal Singh Sandhu clinched the men's title while Hana Ramadan of Egypt won the women's crown in the third leg of the HCL-SRFI India Tour Squash Tournament in Mumbai.
Harinder defeated Tomotaka Endo of Japan 3-0 in a match that lasted for 30 minutes, while Hana beat England's Lucy Turmel 3-1 in the women's final.
ICC T20I rankings: Radha retains 2nd position in bowlers' list as Deepti, Poonam slip
Left-arm Indian spinner Radha Yadav remained at the second spot but compatriots Deepti Sharma and Poonam Yadav slipped a place each to the fifth and sixth positions in the latest ICC Women's T20I players rankings. Among the batters, Jemimah Rodrigues continued to occupy the fourth spot, while Smriti Mandhana and Harmanpreet Kaur too remained static at the seventh and ninth positions.
India continued to hold on to the fourth position in the ICC Women's T20 Team Ranking. Among others, spinner Sophie Ecclestone and opener Amy Jones have attained career-high rankings.
Australia's Megan Schutt continued to lead the bowlers ranking. The left-arm spinner is on 727 rating points.
Wicketkeeper-batter Jones has been rewarded with a jump of 30 places to a career-best 17th position.
India, ADB sign $490 Mn loan for PPP to upgrade Madhya Pradesh roads
The Asian Development Bank (ADB) and Government of India has signed a $490 million loan for public-private partnership (PPP) project for upgradation of about 1,600 km of state highways and major district roads (MDRs) from single-lane to two-lane widths, with road safety features and all-weather standards in state of Madhya Pradesh.
The project will also develop an e-maintenance system, which can record defects or required maintenance, along with a training program to develop capacity on contract implementation and project finance in Madhya Pradesh Road Development Corporation (MPRDC).
India-China discuss border issues in New Delhi
Indian and Chinese representatives met in New Delhi for the 22nd time to discuss the border issued between the countries. This is the first meeting of the representatives since the second informal summit between PM Modi and President Xi Jingping that was held at Chennai in October 2019.
India and China agreed to intensify their efforts in order to achieve reasonable solution to boundary problems. Also, the countries recognized the importance of Confidence Building Measures in order to promote communication between the border personnel.
India-EU Summit: EU President calls on PM Modi
On December 21, 2019, the EU President called on PM Modi to discuss regarding an early India-EU summit 2020. It is expected that the leaders will discuss on making progress on the issues related to Bilateral Trade and Investment Agreement (BTIA), Europol, counter-terrorism, Euroatom, climate change, etc. The summit is to be held in Brussels.
The BTIA is a free trade agreement that was initiated between India and EU in the year 2007. Even after years of negotiations the countries are yet to resolve the deadlock that prevails in and around the issues of fulfilling BTIA.
Indian-American Dr Monisha Ghosh named 1st woman CTO at FCC in US
Indian-American Dr Monisha Ghosh has been appointed as the first woman Chief Technology Officer at the US government's powerful Federal Communications Commission (FCC).
The FCC regulates interstate and international communications by radio, television, wire, satellite and cable in all 50 states, the District of Columbia and US territories. The FCC as an independent US government agency overseen by Congress is the federal agency responsible for implementing and enforcing America's communications law and regulations.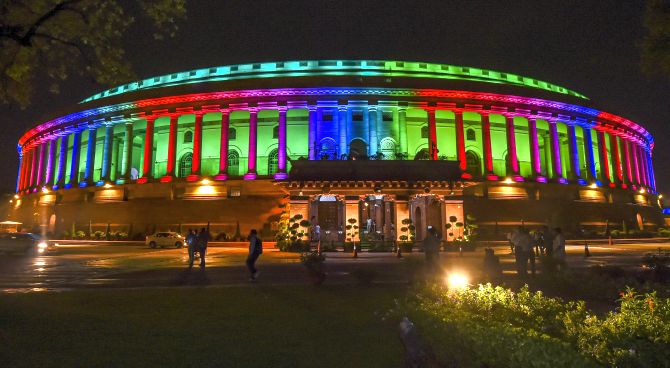 Plan to build new Parliament Building
GoI announced that the 9.5-acre plot opposite to Parliament building is to be used for the construction of new Parliament building. This officially confirms that the plan to build a new Parliamentary building is on. There were concerns and objections regarding the plan in the earlier stages.
The Parliament House was built by the British between 1911 and 1931. The Parliament Architecture was designed by British Architects Sir Edwin Lutyens and Sir Herbert Baker in 1912. The structure includes hybrid architectural style namely Hindu, Roman and Saracenic.
Sheikh Hasina elected Awami League President
The 21st National council of the ruling Awami League of Bangladesh today elected Sheikh Hasina for the next three years as Party President for the ninth consecutive term. She has been leading the Awami League since 1981. It also elected Obaidul Quader as general secretary for second term.
The National Council of the Awami League will also elect its next central working committee. The number of women in the central committee is expected to be increased from the current level of 15 as the Bangladesh Constitution requires that women representation in all political parties must by at least 33 percent by 2020.
Space Force: Trump officially launches new US military service
Describing space as the world's newest war-fighting domain, US President Donald Trump officially launched US military 'Space Force' at an army base near Washington. Trump highlighted that the Space Force will help to deter aggression and control ultimate high ground.
Space Force is United States' first new military service in more than 70 years, since Air Force was spun off from US Army in 1947. While Space Force is not designed or intended to put combat troops in space, it will be the provider of forces and will build on work of US Space Command (SpaceCom). SpaceCom was created in August 2019 as the overseer of US military's space operations.
Writer and critic LS Sheshagiri Rao passes away
Kannada writer and critic L.S. Sheshagiri Rao passed away. His first work was Idu Jeevana, an anthology of short stories was released in 1948. He is best known for his book "Hosagannada Sahitya Charitre". He was best known for his critical works and an English-Kannada dictionary that he compiled. Proficient in Kannada and English, many of his works were bridges between the two languages.