Daily Current Affairs - 08th Mar 2020
40% of Environment Related Crimes in India are from Rajasthan
The Comptroller and Auditor General tabled the report for the year that ended on 31st March 2018 (2017-18). The report was tabled in the assembly. According to the report, between 2014 and 2016, 40% of environmental crimes in India were from Rajasthan.
The report pointed out that Wildlife Crime Control units were not established in the state. The crimes violated Forest (Conservation) act and Wildlife Protect Act. Between 2014 and 2016, the number of environmental crimes registered in the country were 15,723 and those registered in Rajasthan were 6,382.
Annual festival of St Antony's Shrine in Katchatheevu Island begins
The annual festival of St Antony's Shrine in Katchatheevu Island, Sri Lanka begins. More than 3,000 devotees from India are being transported in country boats.
It is notable that the citizens of India are not required to possess an Indian passport or Sri Lankan visa for visiting Kachchatheevu, according to an agreement between the two governments.
St Antony is worshiped as the patron saint of seafarers. The shrine is the only structure on the island and was built in the early years of the last century.
Bimal Julka is new Chief Information Commissioner
Bimal Julka is appointed as the Chief Information Commissioner (CIC) of India. President Ram Nath Kovind administered the oath of office to Bimal Julka as Chief Information Commissioner (CIC). The oath ceremony was held at the Rashtrapati Bhavan. Sudhir Bhargava was the former CIC of the country.
The Central Information Commission was established by the Central Government in the year 2005 under the Right to Information Act (RTI), 2005.
EPFO cuts interest rate to 8.5% for 2019-20, a seven-year low
Employees' Provident Fund Organization (EPFO), the retirement fund body has lowered the interest rate from 8.65% to 8.50% on provident fund deposits for the financial year 2019-20. The announcement of the reduced interest rate was made by Labour Minister Santosh Gangwar. The decision was taken during the meeting of the EPFO apex decision making body-the Central Board of Trustee, held in New Delhi.
Former India opener Wasim Jaffer announces his retirement
Former India opener Wasim Jaffer announced his retirement from all forms of cricket in Mumbai.
The 42-year-old Jaffer had amassed a mountain of runs in a glorious first-class career that spanned almost a quarter-century.
The Mumbaikar leaves the scene as the only batsman to score 12,000 runs in Ranji Trophy and he also has the highest number of first-class hundreds to his name.
Internationally, Jaffer played 31 Tests, scoring 1,944 runs at an average of 34.11. Besides five tons, he has 11 fifties in the highest format of the game, with 212 being his best.
Ghojadanga of West Bengal and Agartala of Tripura designated as immigration check posts
Ghojadanga of West Bengal and Agartala of Tripura were designated as land immigration check posts. They are located in Indo-Bangladesh border.
The Government of India has designated Agartala and Ghojadanga to check all classes of passengers entering to and exiting from India. The immigration posts will check travel documents of the passengers. The check posts were authorized under Passport rules, 1950.
GoI to create 75 lakh Self Help Group by 2022
Minister of Rural Development Narendra Singh Tomar announced that more than 17 lakh Self Help Groups (SHGs) are to be developed by 2022. Currently, there are more than 60 lakh self help groups in the country mobilizing 6 crore women.
The concept of Self-Help Groups was introduced in 1992 under the guidelines of RBI and NABARD. Today, more than 90% of SHGs in the country consist of women.
The SHGs help to promote Gender Equity, Social Integrity, Financial Inclusion and help raise voice of marginalized section. The "Kudumbashree" project in Kerala is the largest and most successful SHG project in the country that was launched in Kerala. It is a SHG of the State Government. It was launched in 1998.
Govt invites bids for sale of its entire 52.98% stake in Bharat Petroleum Corporation Ltd
Union Government has invited bids for the sale of its entire 52.98 per cent stake in the Bharat Petroleum Corporation Limited.
The bid document stated that the Government of India is proposing strategic disinvestment of its entire shareholding in BPCL comprising 114.91 crore equity shares, which constitutes 52.98 per cent of BPCL's equity share capital, along with transfer of management control, to a strategic buyer (except BPCL's equity shareholding of 61.65 per cent in Numaligarh Refinery Limited).
The government has appointed Deloitte Touche Tohmatsu India LLP as its Transaction Adviser to advise on and manage the strategic disinvestment process.
India lost Davis Cup Qualifiers 1-3 to Croatia in Zagreb
In Tennis, India lost the Davis Cup Qualifiers 1-3 to Croatia in Zagreb. Sumit Nagal was routed by Marin Cilic in the reverse singles match after big-serving Rohan Bopanna and Leander Paes won the do-or-die doubles match.
Former US Open Champion Marin Cilic crashed Sumit Nagal 6-0, 6-1 in just 56 minutes. Earlier, Bopanna-Paes pair defeated Mate Pavic and Franko Skugor 6-3, 6-7, 7-5 in the do-or-die doubles after the team lost the first two singles.
India observed Jan Auashadhi Diwas on 7th March
Jan aushadhi Diwas was celebrated on 7th March 2020. The Jan aushadhi Divas aims to provide further impetus and create awareness about the use of generic medicines.
The day also highlights the initiative undertaken by the Government in the direction of making quality healthcare for all, like Ayushman Bharat, PMBJY, etc.
The Pradhan Mantri Jan Aushadhi Pariyojna was launched by the Prime Minister with an objective of making high-quality medicines available to all at an affordable price, especially to the poor and underprivileged, through exclusive outlets of Jan Aushadhi Medical Stores.
India shares two SARS-CoV-2 Genome Sequences with Global Initiative on Sharing All Influenza Data
India officially shared two SARS-CoV-2 with the Global Initiative on Sharing All Influenza Data (GISAID).
The Pune based National Institute of Virology has shared two sequences of novel corona virus with Global Initiative on Sharing All Influenza Data. It is important to study the genome sequences of the virus as it will help in epidemiological investigations.
The GISAID promotes international sharing of influenza virus sequences.
Kareena Kapoor Khan inks 2-yr contract as Puma's brand ambassador
German sportswear brand Puma has signed a two-year deal with Indian film actress Kareena Kapoor Khan to be its brand ambassador.
With this deal she joins the brand's roaster of celebrity faces such as Virat Kohli, Sara Ali Khan, MC Mary Kom and Dutee Chand.
Khan will be the face for Puma's soon-to-be launched collection of low-intensity training apparel collection targeted at workouts such as yoga, barre, and pilates.
Puma sells performance and sport-inspired lifestyle products in categories such as football, running and training, basketball, golf, and motorsports.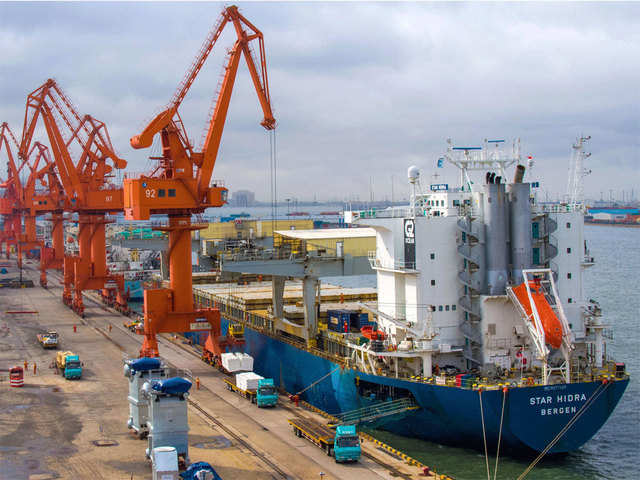 Major Port at Vadhvan, Maharashtra
The Union Cabinet approved the proposal to set up major port at Vadhvan in Maharashtra. The GoI has sanctioned Rs 65,545 crores for the project.
The port is being set up to achieve GoI target of developing infrastructure projects of worth 100 lakh crore rupees. The port will handle 16,000 to 25,000 TEUs per day. A Special Purpose Vehicle (SPV) is to be in association with Jawaharlal Nehru Port Trust is to be formed.
The Mundra port and JNPT port are the two largest container handling ports in India. They have drafts of 16 metres and 15 metres respectively. The Vadhvan port has a natural port of 20 metres. This makes it ideal to handle bigger vessels.
March 8th: International Women's Day
Every year, March 8th is marked as International Women's Day. It was first proposed by the Socialist Party of America in 1909. However, it was pertained to New York City. The first International Women's Day was marked first in 1909. The United Nations began celebrating Women's Day in 1975.
This year the International Women's Day (ITW) is marked under the theme: An Equal World is an Enabled World
For the first time in Indian history, women visiting monuments under Archaeological Survey of India are to be provided with free pass. This is being done to signify Indian Culture's respect for women.
Ministry of AYUSH develop "AYUSH GRID" and "National Ayurveda Morbidity Codes"
The Ministry of AYUSH released digital platform called AYUSH GRID. The grid provides facilities associated with AYUSH hospitals and laboratories and promote traditional health care.
There are more than 12,500 AYUSH centres in India. The "AYUSH GRID" platform aims to digitize entire AYUSH sector. The Ministry has launched AYUSH Hospital Information Management System, Yoga locator application, Tele-medicine, case registry portal, bhuvan application earlier. These projects are to be linked with AYUSH GRID at later stages.
The Ministry of AYUSH has developed National Ayurveda Morbidity Codes. These codes classify diseases described in Ayurveda. In the first phase of the initiative 4 disease conditions have been identified namely Kasa, Kushtha, Jwara and Shwasa.
Monitoring Cell opened under Mission Bhagiratha
A dedicated monitoring cell was opened under Mission Bhagiratha to invite grievances and issues of supply of drinking water. The aim of the cell is to get prepared to address water scarcity of summer. The cell constituted will record complaints and redress them without any delays.
The Mission Bhagiratha is a safe drinking water project that was launched for the state of Telangana. It aims to provide drinking water to every village and city household. It will supply clean drinking water from the rivers Krishna and Godavari.
More than 40% of schools are without power and playgrounds
A Parliamentary panel set up on education submitted its report to Rajya Sabha on 2020-21 demand for grants. The report said that shortfalls in budget funds has led to critical infrastructure gaps.
The Panel in its report says that more than 27% cuts have been made in budget allocations for school education. The report also says that only 56% of schools have electricity. The lowest rates were found in Manipur and Madhya Pradesh. Also, only 57% of schools have playgrounds. A boundary wall which is essential for safety of students and school property was not found in 40% of the schools.
United Nations Global Compact Study: Women Labour-force has declined greatly in India
The United Nations Global Compact conducted a study and found that female labour participation has decreased from 34% in 2006 to 24.8% in 2020. The study also says that out of the 153 countries surveyed, India is the only country where economic gender gap is greater than political gap.
The Study says that if women labour participation has been the same as that of men, the GDP of the country shall be boosted by 27%. Globally 38.7% of employed women are working in forestry, agriculture and fisheries. However, only 13.85/- of them are landholders.