Nashik - Nashik - CAT'19/20 Scholarship Test - 20th January
Venue : T.I.M.E - Nashik Centre College Road
Timings : 10:00 am-11:00 am, 11:30 am-12:30 pm
Dear Student
Greetings from T.I.M.E. !!!.
Triumphant Institute of Management Education Pvt. Ltd. (T.I.M.E.) is India's leading test-prep institute with a pan-India presence and is headquartered at Hyderabad. Established in 1992, T.I.M.E. today operates out of 244 offices in towns and 116 cities across the country.

As a part of our search for meritorious candidates across Nashik, we are conducting a "T.I.M.E. Talent Search Examination" (TTSE) in Nashik on 20th January, 2019. The TTSE is open to students who wish to prepare for CAT 2019/20. Based on performance, students writing this examination will become eligible for Scholarship upto 100% on our CAT 2019 Full Course fee.
T.I.M.E.'s Talent Search Exams is designed to "Know Your Present Aptitude Status".
Test Structure: MCQs based Test on Quant, English & Reasoning for 60 minutes with 25% negative marking scheme.
Who can write: Students aspiring for CAT 2019 / 2020 can write the TTSE test.
Existing T.I.M.E. students are not eligible to write this Test.
Entry Fee: Rs. 20/-
Result will be declared on Tuesday, 22nd Jan. 2019.
TTSE Date: Sunday, 20th Jan 2019
Time: Different time slots available. Students may opt as per their choice at T.I.M.E. Centre.
Venue: T.I.M.E. Nashik Centre - 103, Rohan Heights, Opp. Domino's Pizza, D'souza Colony, College Road, Nashik - 5

For registration contact:
T.I.M.E. Nashik Centre: 103, Rohan Heights, Opp. Domino's Pizza, D'souza Colony, College Road, Nashik - 5 Mob. 93268 69898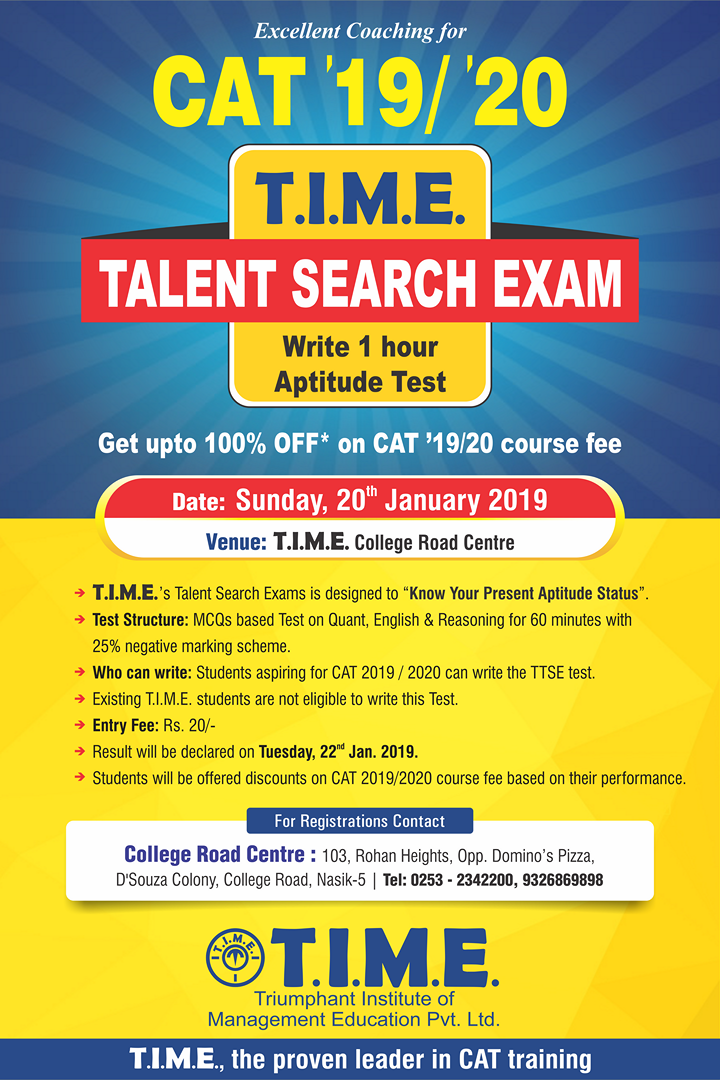 ---